Article & User Actions
When you create an account on RouteShare
Nice Route to a route article
Save the route article
Clone (copy) a route article
Follow users
You can follow users. If you do not have an account, please Sign up and create an account, as there are more things you can do with RouteShare.
Nice Route
Nice Route is a way of saying thank you to the author of the route article. See the route article.
I learned something new.
I learned what I wanted to know
I wanted to visit the places introduced
I am very happy that I actually went there.
If you think it was a good experience, please support the author by clicking "Nice Route" and expressing your appreciation. It will surely motivate the author. When you send Nice Route, click the icon or, the button in article details
Saving Articles
I found the list and there were multiple articles I was interested in.
I don't have time right now, I want to look at them later.
I want to save it because I want to use it as a clone source
I want to save it so I can look back at it later because it's useful
RouteShare allows you to save articles for such occasions. When you save articles, click the icon at bottom of card or the button in article detail You can also assign categories when saving. Up to 5 categories can be created.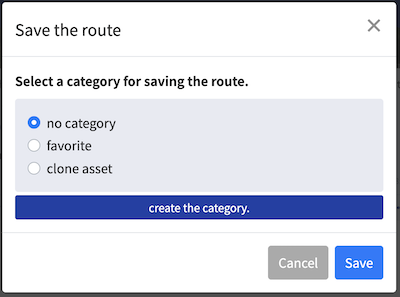 Saved routes can be viewed in the List of saved routes. The list can be searched by category and keyword.
Article Clone
RouteShare offers a clone function, which allows you to copy the contents of the map settings of a target article and create your own article.
I want to travel the same route as this article.
I would like to copy many useful data to my own map.
I want to add my knowledge to this article and arrange it
Let's create more articles based on the articles created by others. Please note that only the routes and spots in the map settings will be copied, not the content of the article**.
How to clone
When you clone the article, clike the icon at the bottom of card
or the button in atricle detail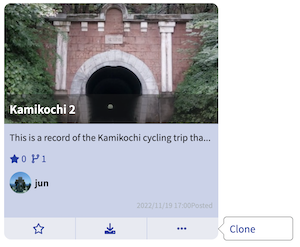 Next, you can select the layers and objects to be cloned on the detail screen. Normally, all settings are cloned, but you can select some layers/objects to clone. When cloning, enter the title of the article to be created and click Start Clone.The cloned route will be created as a draft and can be edited and published from the created route.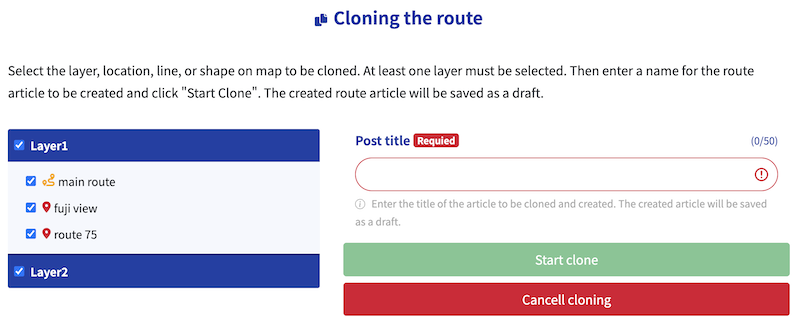 User Follow
RouteShare allows you to follow users. If you follow a user, you will be notified when they publish a new article. To follow a user, click Follow on the user card. Click to cancel. To cancel, click the button again.